samsung
Time: globisoftware
On: Apr/10/2023
Category: Huawei iphone samsung Digital life
Tags: Do any new Samsung phones have an infrared emitter?
After many months of waiting, the new Samsung Galaxy Fold, the first smartphone on the market with a folding screen, has arrived at our review table. This terminal can already be purchased in Spain, although the price is really high, 2020 euros.
Of course, as Samsung has expressed, it is an exclusive device that will be sold exclusively, in the company's stores, and with a brief training by the employees to each of the buyers. The reason is not trivial: we are dealing with a new device, with special functions that require a certain degree of adaptation.
In addition, as we told you in the unboxing, the sales box has details such as the inclusion of a cover designed for the terminal or the Samsung Galaxy Buds headphones, an accessory that is not exactly cheap.
Features of the Samsung Galaxy Fold
Pantalla smartphone | tablet
Características principales
Memoria
Cámaras
Delantera:
Conectividad
Sensores
Batería
A design that changes the use
The design is possibly the most striking and spectacular thing about this device. Samsung wanted to create a new product category, something that is not purely a smartphone but not a tablet either. This is something that is seen on a day-to-day basis because it does not give us the feeling of using a computer, but it is not exactly a smartphone either.
One of the biggest drawbacks of this model is that, closed, its thickness is very considerable. That is noticeable when picking it up, although it does not bother, but especially when carrying it in your pocket. And no, although a small protective casing comes in the box, we do not believe this terminal is the ideal one to put it in a bag or a shoulder bag.
The weight of the terminal is very noticeable
The weight is also noticeable and it is that the 263 grams of the Samsung Galaxy Fold (more than a quarter of a kilo) are considerable. However, this is perceived differently when we have it closed (it is very noticeable) than when we have it open (it is less noticeable).
Regarding the arrangement of the elements, we have to say that there are things that we like and others that we don't. One that does is the position of the speakers, one in the lower frame and one in the upper frame. When we take the terminal vertically, whether open or closed, it is impossible to block the sound. Even when we turn it, we can turn it around so as not to cover either of them.
At the bottom we have the USB C charging port, but there is no headphone jack. At least Samsung has had the consideration to include Samsung Galaxy Buds in the sales box, so it is a lesser evil, or a corrected one.
On the left side we have the tray for a SIM. Here there is neither dual SIM slot nor one for the phone card and one for the micro SD. At least it is compatible with eSIM so we can carry two phone numbers.
In the right area we have the two volume buttons at the top, the power button (which we will have to reconfigure since it works by default as a Bixby trigger) and the fingerprint sensor, which is just below.
I have never liked the fingerprint sensors on the side and although in this case it is thought of since it is where you put your thumb to open the main screen, I have chosen to use facial recognition more, although it is less secure since it does not have a system of 3D face scan.
The Samsung Galaxy Fold is a high-end, without drawbacks
The performance of this terminal is good. Very good. Of the best. To a processor that has been around for a while but continues to behave well, a memory configuration is added in line with what is expected with a mobile of this price.
We have 12 GB of RAM and 512 GB of internal memory in the only configuration that is sold. This amount of memory makes applications stay open longer, makes it easier to edit in demanding apps, and prevents us from running out of memory.
In addition, since the storage is UFS 3.0, the time it takes us to download or install applications and games is much less, and it is quite noticeable, although on a day-to-day basis it is not something critical, except for very specific uses. In fact, this is something that I don't usually pay attention to when I use it, but in this case I forgot to restore a very heavy game (Asphalt 9) and when I downloaded it normally from the Play Store I missed the speed at which it installed... until I i remembered this.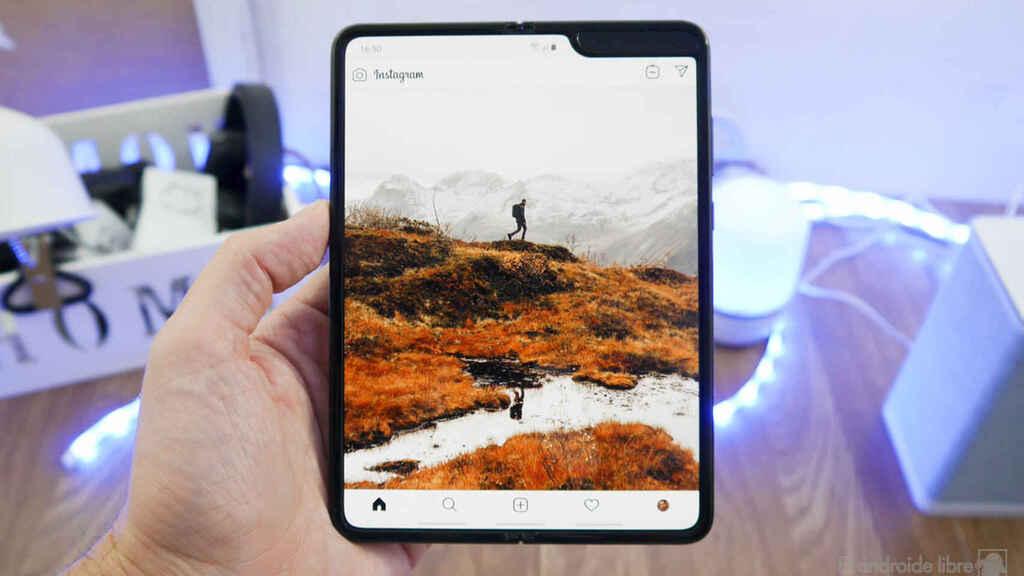 Connectivity on the Samsung Galaxy Fold is also good, with dual-band GPS, dual-band Bluetooth 5.0 or Wi-Fi 6, and MIMO connectivity, which translates to speeds of about 470 Mbps over a 600 network. Not the fastest that we have seen, but it is not a problem or a complaint.
We also have NFC for mobile payments, but no FM radio, headphone jack, microSD slot or infrared emitter.
Two screens better than one
One of the advantages of having an external screen is that we can use the mobile with one hand. This panel, 4.6 inches and HD + resolution, has great color quality when using Samsung's famous OLED panels, but it also has a downside. The font size is so small that it is sometimes difficult to read. Fortunately it is something that can be changed.
The quality, as we say, is good, and the panel has optimal sensitivity, although being so small, it has sometimes been difficult to write and we have had to repeat a slide or action. Personally, I prefer to type on the keyboard by swiping, even if you have to choose a keyboard that has that option.
In the time that I have been using the mobile, inertia made me use the external screen since it is the one that was closest to hand. Little by little I have tried to get used to using the internal screen and, in fact, what has finally happened is that I have kept the terminal open whenever I am working or in the living room, only closing it when I go out.
The interior screen of the Samsung Galaxy Fold is much larger, with a 7.3-inch diagonal and FHD+ resolution. The user experience is much more comfortable than in normal terminals, simply because of its surface.
Of course, there are situations in which, having it open, its use is somewhat more uncomfortable, such as when we use it lying on the bed, because it is necessary to hold it with both hands and the weight tends to make it difficult for it not to fall. Of course, we can use it in that closed situation.
As is logical, the touch of the screen is somewhat different, being a plastic component, not glass. Despite that, now that the protector is included in the screen and not seen, the sensation is very similar to using a glass screen both visually and in tactile perception.
As for the wrinkle that appears in some images, it is true that you feel it sometimes when we move our finger, but it is something that happens very rarely, and when you are concentrating on using a game or an application it does not become a drama.
What I have noticed is that when playing, with games in which reflexes are important, as well as speed, I had a certain apprehension about squeezing the screen a lot, something that the mobile box itself says is not advisable to do. This is something that little by little is being removed but there is always the question of whether it will be a problem over time.
Six cameras better than one
Samsung knows that such a terminal cannot limp in the photographic section. In fact, this is the first mobile that I have analyzed that has no less than six cameras. The distribution is peculiar since they are in three different locations.
We have a sensor on the cover, on the outer screen, of 10 Mpx with an aperture of f / 2.2. Inside we have the same camera, accompanied by an 8 Mpx RGB depth sensor with f/1.9 aperture.
But the main module is on the back, with a normal 12 Mpx wide-angle camera with f/1.5-2.4 variable aperture, Dual Pixel focus with optical stabilization. We also have a 16 Mpx wide angle and f/2.2 aperture and a telephoto with two-magnification optical zoom, PDAF focus and f/2.4 aperture.
The experience taking photos with this terminal is the same as we had with the Samsung Galaxy S10, that is, a very positive and complete experience, which, however, does not stand out in many aspects. Or rather, it does not do so in a striking way.
The quality of the three rear sensors is quite good, although the larger opening in the main sensor is noticeable, achieving more light and detail.
Samsung has struck a good balance in photo processing and the camera app is competent and has the right options. We do not miss more resolution since both day and night the shots we get are very correct. Of course, at night the zoom does not give us the sharpness that we would like, but it is normal in all sensors of this type.
One aspect that I would like to see improved is the portrait mode since sometimes the cut is not perfect, although it is not dramatic either. Behind it works better but with low light the quality is not always as desired.
In front of us we have a good camera, with a more than good result in daylight, although not so much in low light. In addition, the change between the angular and group photo is notorious, as you can see in the images in the gallery.
We hoped that this model would stand out in the video, but the stabilization could be improved and although being able to move from one lens to another gradually is appreciated, the lens change is noticeable.
The Samsung Galaxy Fold has two batteries
The battery of this model is divided into two parts due to the design of the terminal, although it behaves as a single entity. It has 4380 mAh and the autonomy it offers us is good, without being spectacular.
In a first battery test we have been using the mobile indoors above all, to play games, watch many videos on YouTube, make a phone call, etc. We have managed to have 6 hours of screen with 30 total hours of autonomy.
In the second battery test we have been using the mobile exclusively outdoors, taking many photos, some videos, using social apps and playing some HearthStone games. We have managed to have 5 hours of screen with 20 total hours of autonomy.
In the third battery test we have been taking some more photos, we have played a lot (under Wi-Fi) and we have been using social apps. We have managed to have 5 hours of screen with 24 total hours of autonomy.
In the fourth battery test we have been listening to podcasts, we have played games, we have talked on the phone and we have used social apps. We have managed to have 5 hours of screen with 31 total hours of autonomy.
The rest of the days we have obtained similar autonomy. that is, we can have energy for a whole day of use, but we will have to charge the mobile every night.
Here we can be happy to have wireless charging, although it is not one of the fastest we have seen (15W), also reverse wireless charging, even if it is anecdotal, and fast cable charging, in this case of only 15 W, much better.
The interface is unique, and takes advantage of the screen
Samsung is one of the few companies that still does not have any terminal updated to Android 10. The betas are currently starting, and we have already been able to test them.
However, the Fold is a terminal that may take a little longer to update since, in addition to the Samsung system and interface, it has some exclusive functions that also have to be adapted.
One UI, Samsung's interface, has the same aesthetics and functions as in other mobiles, but there are strange details, such as the fact that the power button is used to launch Bixby and not to turn off the mobile, although it can be changed. We can also use the fingerprint sensor to open notifications, something comfortable especially when we use the interior screen.
Here I really missed being able to use the external viewfinder screen when taking a photo with the mobile open, which would allow us to take selfies with the rear cameras, or allow the person we photographed to see themselves on that small screen while we framed with the inside
But what is interesting are the added functions. One of the most useful is continuity, which allows us to be using an application on a screen and change at the time simply by opening or closing the device. It is possible to do it in both directions and with the applications that we want, we simply have to configure it in the settings.
Another very interesting function is real multitasking, which allows us to open up to three windows in a matrix on the screen or many more if we leave them as floating windows. I have found myself using it when I was looking for a series of websites to send by WhatsApp, having both applications open on the screen.
It is practical at times, but there is a catch. A real function of this is to be writing an email, open the gallery and drag an image from it to the email that we are composing. And works.
The downside is that you have to prepare the applications for it and not many are. For example, we have tried to do that with WhatsApp, but although it allows us to take the image and take it to the messaging app window, nothing happens when we drop it. In other words, it is not something integrated into Android, but rather it has to be made compatible with each application.
On the negative side we have the absence of an adjustment that allows us to hide the notch. Per se this is not a problem, but seeing that many applications do not know how to adjust to it and that there are elements of the interface hidden by mistake, it should be a native option, as it is in many other mobiles.
An iconic terminal, with an unknown future
Samsung has achieved what he wanted, to show what the future of mobile telephony will be like from his point of view. This includes, of course, a large diagonal screen, which we can bend. It is something unique and that people appreciate when they see it. He values ​​it very much.
It is clear that this terminal is not intended to be purchased on a massive scale, and Samsung does not intend it. It is not only the price, which is very high, but the production capacity of the screens, the need to learn to use the mobile in a new way...
On the other hand, the terminal is not without flaws, so to speak. At the hardware level, it is thicker and heavier than we would like, and at the software level, applications do not always take advantage of their possibilities, and the notch is annoying on some occasions. The latter is something that can be solved with updates, but it is still a bug.
The Samsung Galaxy Fold will be one of those mobiles that we will remember in a few years, a pioneer that can teach us what mobile phones will be like in a decade. And of course the mobile to buy if we want to leave people with their mouths open. Literally.
Follow the topics that interest you